The Golf Academy's main aim is to promote golf to young participants. In doing so our programme provides a progressive tiered system to both genders, ages and abilities. All sections of The Golf Academy are designed to be active, informative, competitive and most importantly FUN!!
Academy Tier Section Description:
Bronze Academy: Structured sessions directly driven towards learning and understanding of the basic fundamentals of golf. The understanding of basic rules and etiquette is also included to help aid the development of the individual, not only as a player but as a person.
Silver Academy: Specifically designed sessions to help improve the level of technique and performance. Pupils will learn more specialised shots, rules, etiquette, playing formats and more.
Gold Academy: Structured session to progress its participants to a level where they can become course competent and start competing in club competitions. Pupils will benefit from the on course sessions aimed at helping course management and scoring.
Upon completion of the Academy programme it is hoped that pupils will progress into junior members of Harpenden Common Golf Club. Everyone will start in the bronze academy.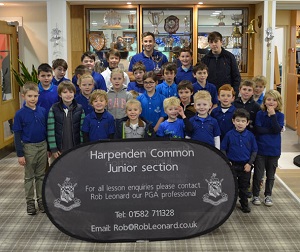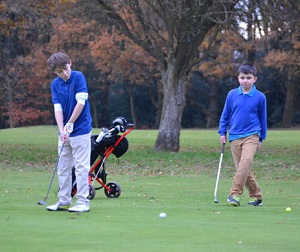 Participation Structure:
The Golf Academy works over a 9 month period separated into 3 terms. These terms are follows
| | | |
| --- | --- | --- |
| Term 1: September-November. | Term 2: February-April | Term 3: May-July. |
Over the past 5-6 years I have found that it's best to NOT provide any sessions in August due to large amounts of its members going away on holiday. This way it maintains session progression without any individuals missing out. However I will be running junior camps in August. There also will be a break in December and January due to the weather.
Cost and Payment Structure:
The cost for a term is £99.00 per participant. Payment is to be taken in the first week of each term. This allows the coaching staff to concentrate on the coaching rather than chasing funds throughout the year.
The payment of £99.00 entitles pupils to 12 x 60 minute sessions and entry to the Academy Championship competition. Payment for the Academy can be made by cash, BAC'S, cheque or Card.
Additional Offer:
I have been approached recently by parents asking for additional individual coaching alongside the academy. To give everyone the best possible chance at moving through the academy ranks as quickly as possible we have devised an offer running alongside each term of the academy.
Exclusive for The Rob Leonard Junior Golf Academy members only, we are offering 1 x 30minute direct coaching sessions for your child at a cost of just £10.00pp which is a 50% reduction. Rather than have the sessions one on one, your child can be in a pair with a fellow academy pupil using a buddy system.
Each player who decides to take up this option will be paired up, and between them (the parents) can decide a suitable time to have their "1 Pro: 2 Pupil" coaching session. The benefit of this is obviously the heavily discounted rate. Secondly it allows for each pupil to build upon what they are constantly learning in the academy classes.
If this is something that interests you please email me to confirm. Payment can be made along with the term academy costs if you wish.
Questions that may be asked:
Can my child pick his or her partner? No this will be done by the coaching staff so that the level of each player is similar, this will provide effective sessions for both participants.
When can I book these sessions? You can book week days or weekends, in the morning, afternoon or evening. It's completely down to yours and the coach's availability.
Does my child have to do it every term? No, you may decide that you want to do it in just term 2. However you may wish to do it every term, it's completely your choice.
Can I come and watch my child in every session? I am more than happy for parents to come up and help for the first session, however children listen and work a lot better if the parents are at least 50 yards away from the junior coaching.
Does my child need clubs/and shoes etc? No I will provide equipment however I also sell the appropriate clubs from as little as £14.99 per club so if your child wants to practice outside the sessions they will have to use their own. Trainers and comfortable clothes are absolutely fine. However when they are ready for the main course there is a dress code to follow.
---
Membership:
An annual fee of £20 is required to become a member of The Rob Leonard Junior Golf Academy. Being an Academy member entitles each individual to the following providing they are still taking part in the programme at the time:
A full schedule of coaching sessions throughout the year.
Entry into 'The Academy Championship'.
Academy team shirt.
Academy goodie bag.
Prizes for the 'The Academy Championship'
The membership fee will also be placed back into the Academy to help promote the programme and events throughout the year.
Rewards System:
The rewards system is a concept designed to teach the life skills such as honesty, kindness and respect that coincide with the game of golf. Golf is not just about turning up to the golf course and going out to play. As many of the top players in the world convey, a smart image, positive attitude, good behaviour, sportsmanship and the ability to learn are all key aspects of developing as a player and a person.
Each term, the teaching professionals shall award two of its Academy players prizes based upon their behaviour, attendance and learning of each individual. Other areas that are important to winning the rewards system are, the ability to listen, outstanding achievements, communication, sportsmanship and the use of the academy code of conduct.
Class Times:
Due to the success of the academy I have to split 2 sessions into 3. Currently the sessions take place on Sundays at 1:15 till 2:15 and 2:30 till 3:30. I will keep academy juniors with their friend and matching their golfing abilities however on the application form you can highlight any times you cannot make, as I want everyone to still participate.
Competitions:
This year we want to provide the academy with as much on course playing experience as possible. We have realised that many of the academy pupils enjoy and are eager to get out onto the main course (or as many of the children call it, "the big course"). This is not always possible with the club having an overloaded competition schedule; however we aim to use the main course in addition to the practice ground as much as possible.
Events such as the Adult & Junior doubles, the Christmas Adults Vs Junior, Inter Academy Stableford, The Junior Flag doubles and more will all be introduced!
Code of Conduct:
The academy code of conduct is a document that will be given to each pupil upon joining the academy. This small document is laminated for each player to hang on their bag.
Other New Elements for 2013:
A text system will be set up to accompany the emails. These texts will help remind you of up and coming dates and events. However emails will still be the main tool of communication. Please be sure to provide me will all correct contact information on the contact and medical sheet provided.
All emails regarding The Golf Academy will come from the address that follows Rob@RobLeonard.co.uk Please be mindful of this as emails sent to bulk addresses can fall into your junk box. If you wish to get in touch with us regarding the academy, please email back to this account rather than our personal addresses.
Academy Classes and Sections:
We aim to move each pupil through the ranks as quickly as possible. However this depends on the following areas.
The players attitude and behaviour when at the golf club
His or hers ability to adhere to the academy Code of Conduct
Golfing skills and ability